Power of Youth (a.k.a. Metta Network, The Naked Entrepreneur, Fx Group etc…)
Power of Youth help young entrepreneurs create a better future, by building a network of business leaders to collaborate on social and green agendas. They have now rebranded as Future X Innovation.
POY was born from a combination of vision and opportunity. Adam Purvis initially ran a one-off event in Beijing to promote economic collaboration between young entrepreneurs in China and the EU. The success of this first event encouraged him and Alex Scott-Tongue to follow up with another in South Africa.
This was in the run-up to the 2014 Scottish independence referendum – an optimal context to encourage construction discussion about what sort of country we wanted to live in, and encourage business leaders to consider how their companies could have a more positive impact on society. The government asked POY to run a long term project back in Scotland.
Adam and Alex turned the company into a full time endeavour, recruited Zoi Kantounatou to organise everything, and myself to do videos and photos (and to represent a token Scottish team member). Four people and a dog was a very small team to make much difference to a nation's business culture and economy, so POY Scotland was designed from day zero as a collaborative initiative, bringing people together from many disparate business support organisations, with maximum input from participating entrepreneurs.
Ardoch
Our first Scottish event was POY Ardoch – a 'global' summit with thirty delegates from eighteen countries in a beautiful house at Loch Lomond for a week. Having known Adam and Alex for a long time, but not having attended the two previous Power of Youth events, I was unsure what to expect. After meeting the delegates I was impressed. These were people doing all kinds of amazing work: a Chinese social media company; a Dutch bio-medical startup making part replacements for the human skeleton; SMS based fintech from South Africa; and the best selling aftermarket brand on Apple Store.
If we were building a network of ambitious and proactive people who could get things done, this was clearly an excellent start.
Ardoch began with a few highly curated days of team building and leadership development sessions, facilitated by Ilana Wetzler. There was a clear focus on figuring out what you wanted to do, what motivated you as a person, what change you wanted to make in the world, and how your business could enable you to do it.
After everyone had got to know each other, we were joined by people aiming to start new businesses, who explained what would help them. The Ardoch Legacy plan was drafted.
Following an extensive design thinking session involving many post-it notes and cups of tea, a concrete plan was hatched to support new businesses, foster collaboration, and implement constructive values. Titled "The Naked Entrepreneur", this would become Scotland's premier peer mentoring programme, bringing together the brightest and best young entrepreneurs to learn from each other, and build business relationships around the world.
Isle of Cumbrae
In an unprecedented stroke of good fortune, the first Naked Entrepreneur event was on the Isle of Wee Cumbrae, on the west coast near Arran. The island is owned by the Poddar family, who very kindly allowed us to hold an event there. It's one of the best places I have ever been.
Considering the highly ambitious scope of POY Scotland it was critical to get the right people to join the programme; inviting them to Wee Cumbrae certainly helped make it seem exclusive and aspirational. Being away from the mainland created a safe space, made everyone feel like they were on holiday. This was a key factor in establishing the magical atmosphere of early era POY.
From a visual marketing perspective it was ideal. I suspect some people applied for Naked Entrepreneur events because they wanted to go on a boat trip.
Whatever their reasons for applying, there were a lot of great people at the Isle of Wee Cumbrae event – not just people from Ardoch, but also the new cohort of entrepreneurs and startups being introduced to the programme. While there was some healthy scepticism about what POY actually did, the concept of getting a bunch of highly capable founders to team up and take on the world had an obvious appeal.
RBS Gogarburn
As the headquarters of a big bank, Gogarburn isn't the ideal venue for a small and personal event. However we held the second Naked Entrepreneur event there (titled "Business Challenges") because RBS were a headline sponsor. The contrast between self-made entrepreneurs and mainstream corporate culture wasn't entirely friction free.
It felt like things were getting a little too serious for the original POY ethos, so we celebrated Jack's birthday in the boardroom. After RBS we went mountain biking at Glen Tress. Zoi and I made lasagne for everyone, and Gav taught us how to open beer bottles with a spatula.
By this point Power of Youth had signed a sponsorship deal with EY, sending their consultants on six week intrapreneurship placements with POY entrepreneurs and SMEs. Adam asked RBS if they could fund the Naked Entrepreneur programme in perpetuity; they respectfully declined, and we never held an event at Gogarburn again.
Zorba The Buddha
Just to mix things up – and continue the international focus of POY – our next event took place in an ashram in Ghitorni, New Delhi. After fine-tuning a model in Scotland it might presumably be exported to other countries if we could get the right people involved. POY India summit was a chance to test out a refined Power of Youth concept on a new and unsuspecting continent.
The Indian entrepreneurs were wonderful – people there are incredibly friendly and intelligent; those who have built successful businesses despite all the inherent chaos are inspiring.
We met people from every sector and background. A tech company using deep learning to revolutionise how humans communicate with software. Social entrepreneurs bringing clean energy to remote communities to power the rural economy. People who ran businesses in Kashmir, despite the constant dangers of living in a conflict zone. A promoter from New Zealand who founded the biggest festival in the southern hemisphere. A company who channel micro donations from gamers to worthwhile causes via Dundee and San Francisco.
Working in India was an great experience, but challenging in ways I hadn't anticipated. The sheer scale of the country is incredible – more people than Europe, more languages and religions. Delhi makes Edinburgh seem like a village – it's so vast that I genuinely doubt anyone could ever get from one side to the other. Cows, eagles, monkeys, mongooses, tribes of dogs and previously unidentified species live in the city centre, marooned by the exponential expansion of urban sprawl. People with multiple advanced degrees have shrines to cool looking gods in their kitchen cupboards. Simple activities like getting coffee or crossing a road take time and commitment to organise.
All of this made getting things done in Scotland seem much easier.
Harburn House
Round three of the Naked Entrepreneur was at Harburn House, halfway between Edinburgh and Glasgow. This event was about "Growth and Scale", and run in association with Entrepreneurial Exchange (now rebranded as Entrepreneurial Scotland to reflect building cohesion across the country's business ecosystem).
By this stage in the programme it was apparent that the Naked Entrepreneur concept was creating tangible results. The entrepreneurs were creating jobs, being offered funding from VCs, expanding their businesses into new countries. People were taking us seriously.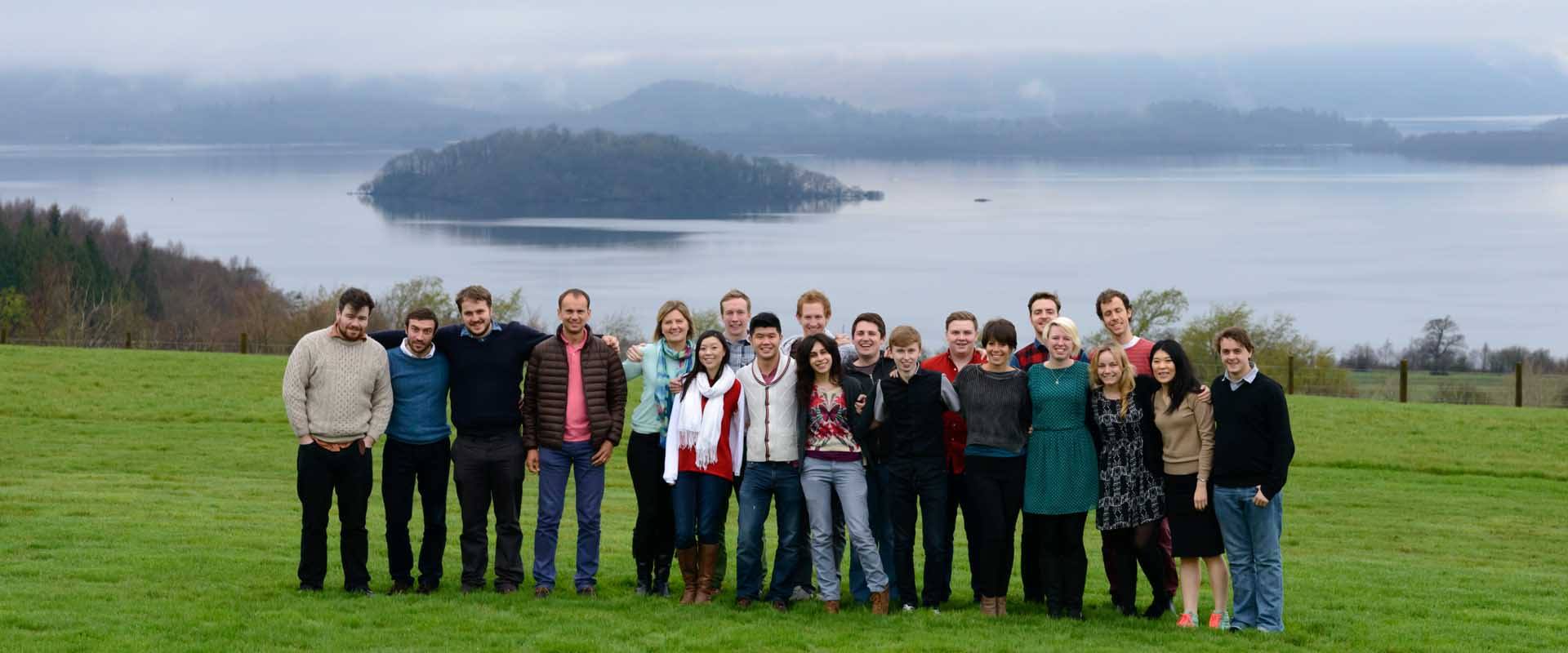 Return to Ardoch
The Naked Entrepreneur: Year 1 held the final event back at Ardoch. It was good to go full circle and return after a year of intensive work, to see how much progress everyone had made. After a year of attending these events together it seemed more like family than business.
This last event in the Programme was about "The Ripple Effect". It focused on applying the growth and success of the POY community to Scotland's wider business culture and startup ecosystem. If a small group of people could utilise their personal motivations to drive their businesses and improve their social impact, how could we leverage this to catalyse a broader cultural shift?
Having a company mission that isn't just about growth at any cost helps employers recruit and retain a better team. Simple steps like paying living wages, empowering staff to advance their careers, and sourcing from reputable suppliers can all add up to a big difference. When companies that demonstrate these behaviours succeed then others will follow. Over time, we can transition to a healthier and wealthier society.
It's complicated to quantify values in business, measure social impact, or calculate carbon footprints. Much simpler to calculate short term monetary gain from reducing supply chain costs, outsourcing jobs, or selling shonky products. This is inherently why flawed economic models create such an unsustainable future for the human race – in the constant struggle to create more revenue every quarter, profits remain with investors while risks and losses are externalised to the public. When companies choose not to pay their staff, banks are bailed out, and the changing climate pushes up food prices, we all pay.
It's easy to complain about the failure of neoliberal economics to deliver a sustainable and fair society, and the consequent disproportionate burden placed on younger generations. It's less easy to improve the situation. Protests on Wall Street  didn't noticeably alter the business practises of the corporations there. Advocating a more sustainable economic system drives a crucial and better informed dialogue about where we need to get to, but doesn't directly empower progress. Accrediting businesses for positive impact is possible, but hasn't yet grown into a mainstream practise.
There are plenty of credible and practical ideas about how to address the situation at a structural level: positive money, universal basic income, and blockchain technology can all play a major role. However these solutions will require time, diplomacy and major cultural shifts to be implemented. Until then, let's help more people build businesses that leave the world a better place than they found it. Power of Youth is a small but important step in the right direction.
POY: Harlem Shake vs Gangnam Style The first video for POY S...

Isle of Wee Cumbrae POY Scotland – The Naked Entrepren...

"Educate yourself every single day and you can't...

Bob Keiller: Resilience "This relentless pursuit of im...

The Naked Entrepreneur Video of participating entrepr...
Words and pictures: building a better world through video
Promoting such an ambitious project required an unconventional approach to visual marketing.
We produced a lot of short form video content. This had several advantages. Filming the entrepreneurs talking about the benefits of participation provided social proof, and gave credibility to the programme. Filming them talking about business problems, and lessons learned through their experiences, provided a valuable resource for content marketing. POY's USP is the community it provides, and the experience of participating in events. Video is the only medium which can reify this experience.
Making these videos presented significant challenges. Having a conventional crew filming would have seriously interrupted the events, so I did everything myself. We could never agree on a script to define what POY did, but participants explaining it from their perspectives actually worked out better because everyone had an individual opinion. Events had a tight schedule, so interviews had to be conducted only during breaks, but there were so many highly articulate people involved that we managed to get enough footage. Videos had to be published within very short deadlines, so there wasn't time for conventional standards of post production.
Despite this, everything somehow worked out well enough to attract more entrepreneurs and corporate sponsors to the programme. POY continues to grow in reach and credibility, working with an ever expanding network of people around the world under the name of Future X. Helping to start it was an amusing and surreal journey, and I look forward to seeing where it leads.
Visual content makes a huge difference to how customers perceive your company. Please get in touch if you are interested in working together!